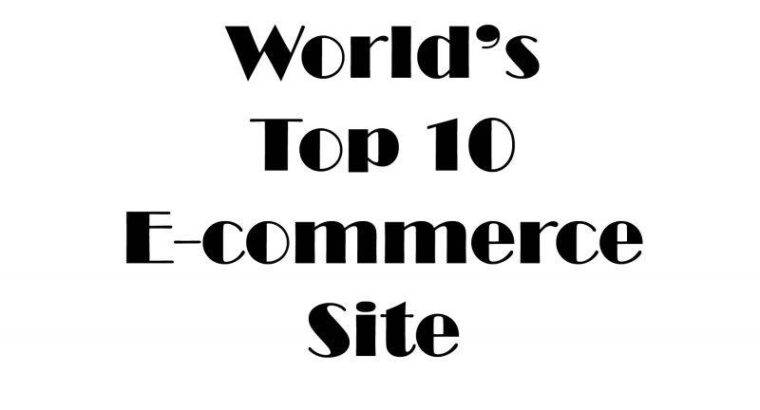 Top 10 e-commerce sites in the world based on visitors
Alexa traffic rank:  7
Amazon was started in 1995 as online store for books . But very sooner, they expanded to all other trendy products like DVD,electronics and other ones. Amazon now do have nearly 1 lakh employees .It is said that amazon do have more 250 M unique visits per month. The growth of amazon was really fast and have acquired a lot of companies.
Read about – The top 10 website acquisitions
Alexa Traffic rank: 12
Taobao is the biggest market place in china. It do have more than 800 million products listed and 500 million users. It is the worlds largest e-commerce website next to amazon.
Alexa Traffic rank: 26
Ebay is an American ecommerce company found in late 1995. Ebay is one of the oldest ecommerce websites and does have operations all over the world. Ebay was the first one to introduce the market place concept to ecommerce shopping cart websites.
Alexa Traffic Rank : 35
Tmall is the most popular online retail store in china. It was started in 2008 by the same taobao group, now operated by the Alibaba Group. It do have nearly 181 million registered buyers. According to alexa, its the 8th most popular website in china.
Alexa traffic rank: 71
Alibaba is the global version of Chinese company and it is world's largest online business-to-business trading platform for small businesses. This same alibaba group owns Tmall and Taobao . It do have nearly 80 million registered users.
Alexa traffic rank: 116
Flipkart is the leading e-commerce company of India found in 2007. Very much like amazon , flipkart also started with books and expanded to other products later. In fact, flipkart taught e Indian people to shop online. Flipkart stands inside the 10 most popular websites in India (in terms of traffic). They did implement the Cash On delivery system which really worked out for the Indians.
Alexa traffic rank: 140
Walmart is an American owned company and the biggest retailer in the world. It do have different outlets all over the world. People can buy these products online from walmart.com
Alexa traffic rank: 246
Snapdeal is on of the biggest ecommerce platforms in India which ships more than 25k products per day. It was founded in 2010. Initially, snapdeal was mainly for deals (that you will get products for special offers). Later on, it switched into a complete e-commerce portal. It was big news that Ebay did invest in Snapdeal that they got access to snapdeal's 20 million registered user accounts. Snapdeal was on 6th position some months before in this list, but now it has been dropped down to position 8. Snapdeal, had to go through some negative issues , this might have been the reason for traffic drop.
9. BestBuy
Alexa traffic rank: 265
BestBuy is an American multinational consumer electronics corporation. It does have a vast collection of electronic goods at cheap price. The global brand name of best buy(very much like walmart) attracts visitors to the website and makes this a grand success in America.
Alexa traffic rank: 267
Jabong is another Indian ecommerce website mainly in the fashion and lifestyle niche. It was launched in 2012 and had rapid growth all over India. Jabong does have the inventory model as well market place model. Jabong has now taken over ebay in India in terms of traffic.
Alexa traffic rank: 365 
This is the ebay's Indian version. ebay is an American company founded in 1995. ebay is basically a market place where seller can list their products. Ebay is one of the oldest market places in the web industry. It do have auction as well as buy now feature for a product.
Source:
Dollarfry